Ducati Official Club Singapore (DOCS) invited us to join them on a ride from Singapore to Phuket. Most people in the group had never ridden to Thailand. To add to the intrigue, some had only taken motorcycling seriously during the Pandemic. Others were rusty but longing to feel the road again.
Singapore is a great starting point for affordable, easy to access road trips. With the North South Highway right at our doorstep, Thailand is a day's ride away and that opens doors to other parts of the region. An adventure bike is a great choice but as we found out, it could be done on practically any Ducati if you approach it with an open mind.
Plan
DOCS has a team of very creative and fun loving people this year. Passionate, lifelong Ducati fans, they wanted to stretch long Ducati legs beyond breakfast and coffee rides.
Planning started in earnest months before the trip. Several aspects had to be taken into consideration. Flying from Singapore to Phuket takes the better part of 2 hours, the distance is considerable. The team wanted to optimize riding time to make sure everyone reached Phuket safely and had enough energy to enjoy the beautiful island. That meant the route and overnight stops had to be carefully chosen.
The trip had to be split into two hops with Hat Yai being the overnight stopover on the first day. The second day would be the segment from Hat Yai to Phuket.
The Route
Even with stops falling into place, DOCS had to think about rider experience, traffic, the constant heat, fatigue and navigation among a million other things. The importance of getting everyone safely to Phuket and back home could not be emphasized enough.
Ducati engineering and quality have come a long way in the past few years and Ducati now feels more like a complete motorcycle company with models that cover a wide range of applications and rider personalities. And this DOCS team was going to test every design and push every spec.
Preparation
Things went fast, trip briefing was a couple of weeks before the ride. Most faces were new and my mind barely registered names or bikes as riders introduced themselves. I tend to hear what I like and the only thing that stuck was "ride within your comfort zone, don't do anything unnatural, there will be a sweep rider following everybody but don't speed up or slow down when you see him".
I packed light. Shorts, slippers, hat. Some of us don't need sunblock, our ancestors already took care of it. I took my running shoes too.
I was familiar with Ducati Streetfighters. Having seen a couple in close action, I knew their strengths and their weaknesses. These beautiful machines were made for cruising streets and daily fuel stops after an extended city run. One rider said he "starts getting fuel anxiety after 150 kms". I was glad to have them for company if it meant more frequent rest stops and a chance to get to know other riders and their bikes.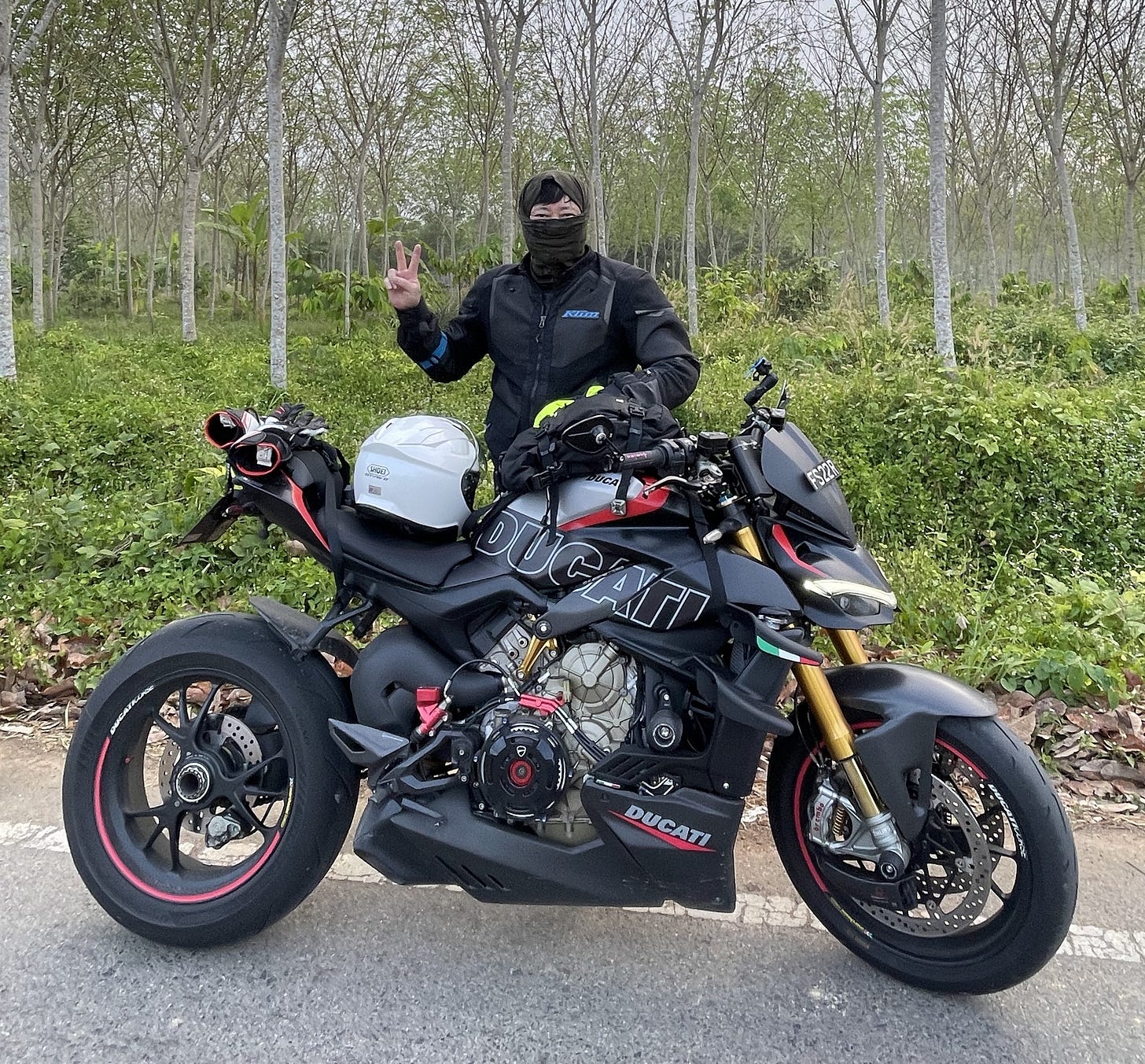 Ducati Streetfighter V4S
Rolling
We met on an early Wednesday morning. Petronas GP (Gelang Patah) was the starting point with enough good karma and a good place to load the support van and go through final briefing and ride plans. The first leg of the journey took us through southern Malaysia. From Singapore, into Johor and continued onto the North-South Highway towards Melaka, Seremban and Kuala Lumpur.
The highway is a blur of speed, you tend to ignore the open spaces and scenery to focus on the road and the dashboard in front of you. The semi darkness of an early overcast morning and the adrenalin in my veins turned off everything except the riding part of my brain.
Then, I felt something flapping on my helmet, raised my hand up to my neck and found that I had failed to strap my helmet in the excitement of the start. I started making checklists from then on including ear plugs, gloves and most importantly the helmet strap. So much for a safe start to a long journey.
I cant say I knew much about Hypermotards and I wondered if they would survive the distances we had to cover. They would do extremely well actually. Ridden by exceptionally good riders, they seemed to enjoy highway speeds in the lead pack and would later on enjoy the curves Thai roads threw at them.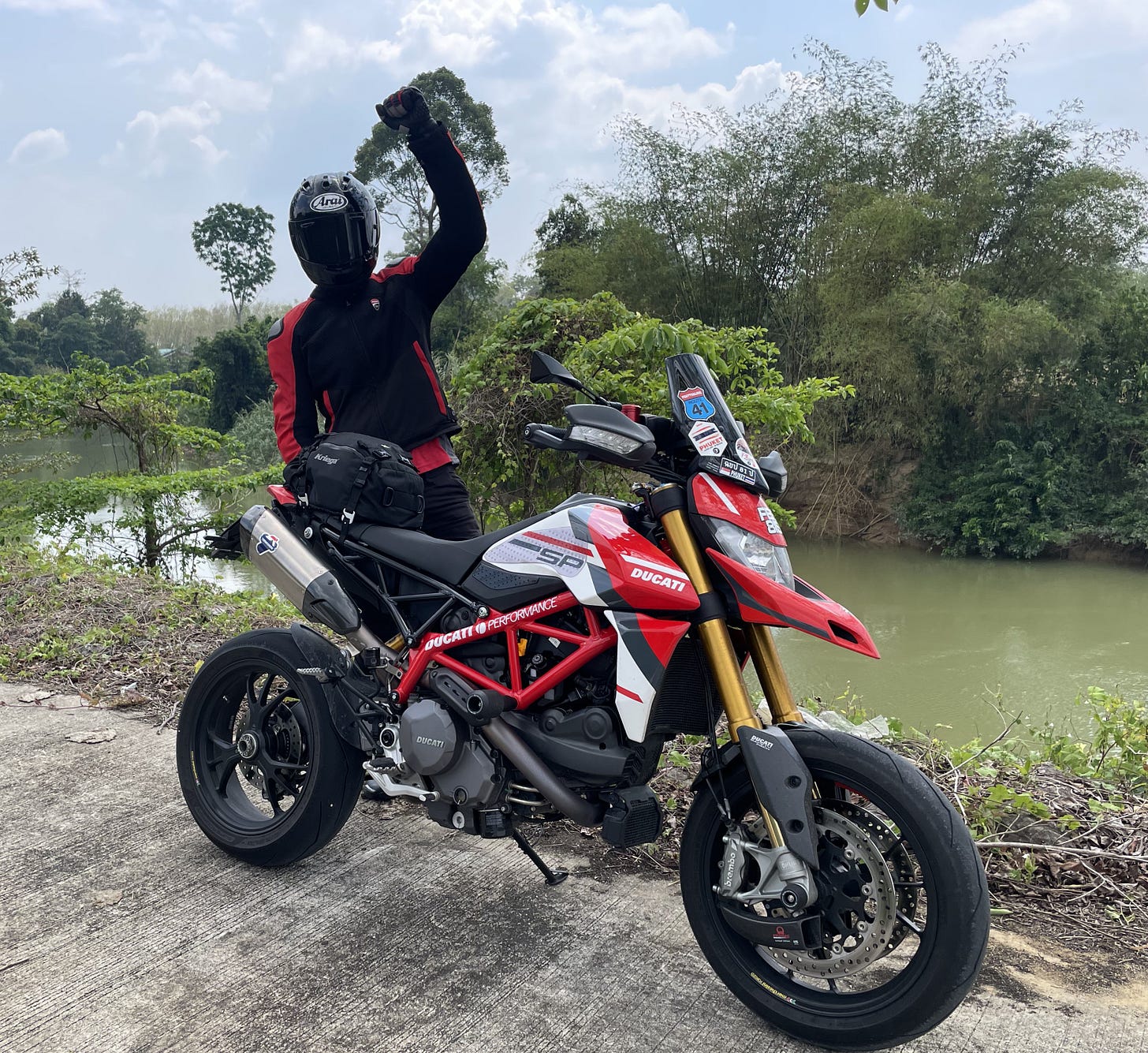 Ducati Hypermotard SP
After passing through Seremban and Kuala Lumpur, we continued north towards Thailand. Traffic around KL was heavy and continued to be mildly congested but we kept moving smoothly. Our support van could only cross the border at Padang Besar and we decided to use the same border crossing as well.
Thailand
Life in Padang Besar was meandering along on a lazy afternoon until 19 bikes entering Thailand for the first time showed up. Apparently, any foreign automobile entering Thailand for the first time needed to be registered on Thai systems. Immigration staff went into minor panic but came through with grace. They found a way to process our entries quickly and waved us farewell in the essential Thai way, with a genuine smile and the joy of having guests in their home, Thailand.
It was late evening when we left Padang Besar and took a scenic route through plantations and small villages to Hat Yai. The hotel was ready and waiting for us. We received our room keys, dumped our bags and freshened up. We were left with just enough time to take a short Tuk Tuk ride to the Lee Garden area for some of the most delicious street food Thailand had to offer. The Phad Thai and Oyster Omelette were outstanding.
Ducati Monsters are designed to be bare bones, naked, the way motorcycles were meant to be. A beautifully balanced chassis melded to a proven, well-mannered and reliable engine these bikes are for purists. Great at everything from sprinting to stopping on a dime, these bikes are a great introduction to riding and they are guaranteed to hold you in their embrace and not let go for life. The Monster was ridden by our only lady rider who did great justice to the abilities of the bike too.
Ducati Monster
Pushing On
The second day started at a more reasonable time, we had time to wake up, meet people and share stories from the previous day. Phuket is a shorter hop from Hat Yai at around 450 kms. But we had to ride very carefully, picking our way through frequent U turning motorcycles and pedestrians. Safe riding speeds were much lower, distances deceptively long. The scenery too breathtakingly beautiful to just zip through and ignore.
The Panigale is another bike you do not expect to ride 100s of kilometers at a stretch. The fairing, meant for quick laps on a racetrack, gave riders just that bit of wind protection which seemed enough. Racing is all about grabbing every little advantage and the race pedigree of the Panigale was evident on Thai roads. So were the fledgling racing credentials of the rider.
Ducati Panigale V2
Route 41 is a great stop for breakfast. Western breakfasts and great coffee wake you up and keep you alert on the roads. The merchandise shop is not bad either. Several quick dry jerseys were bought and worn throughout the ride. Decals went straight onto bikes.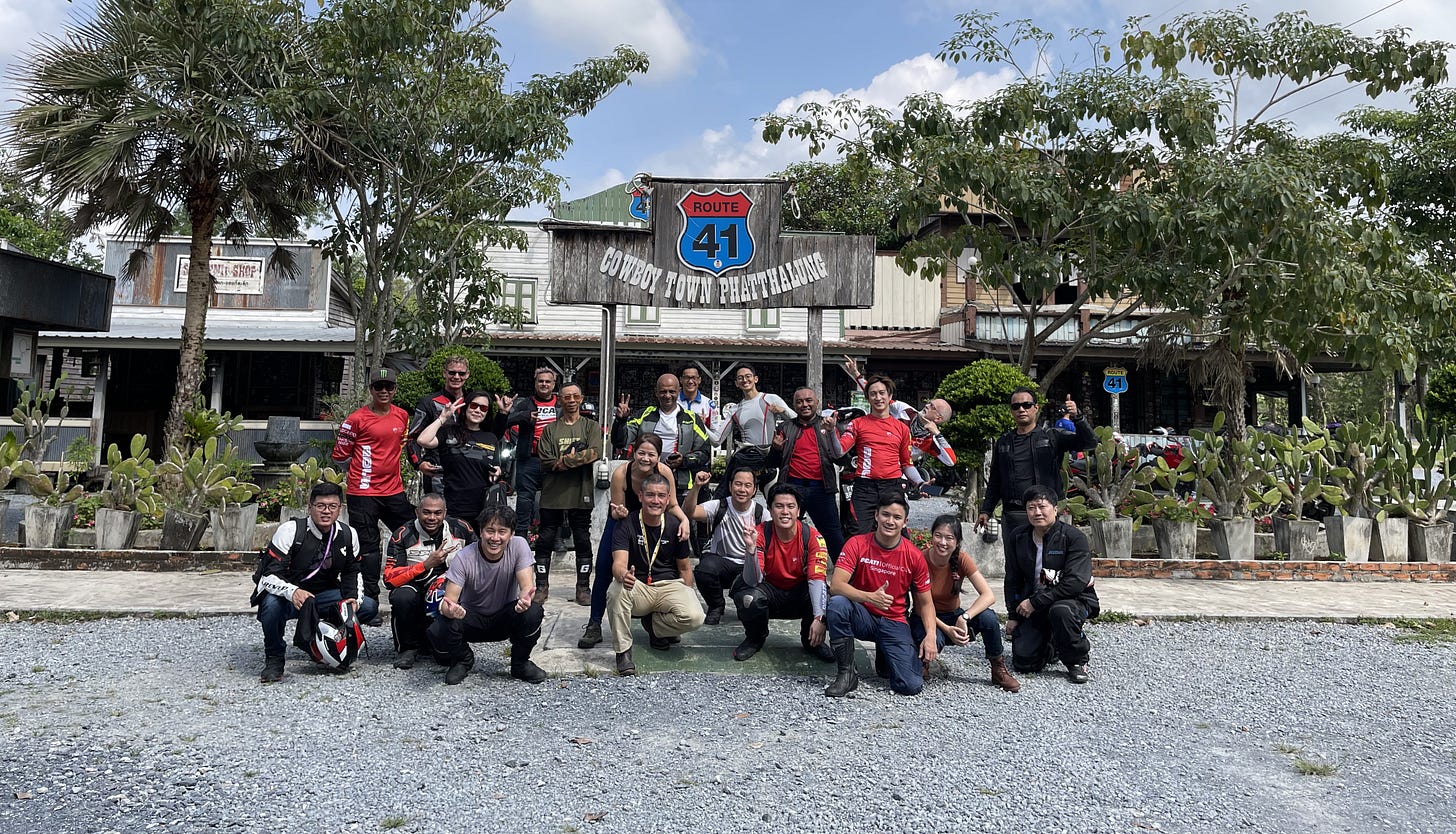 Route 41 Phattalung
The Diavels we knew had done very well, they had enjoyed speeds on the highway and the smaller roads of southern Thailand. I had the opportunity to ride one, raw power and straight-line speed made the bike a thrill to ride. The Diavel gives you torque and power by the shovel load, you just have to ask nicely and be brave enough to weather the storm every twist of the throttle summons up. An interesting but proven side fact, Diavel riders are the funniest, easy going lads of 'em all.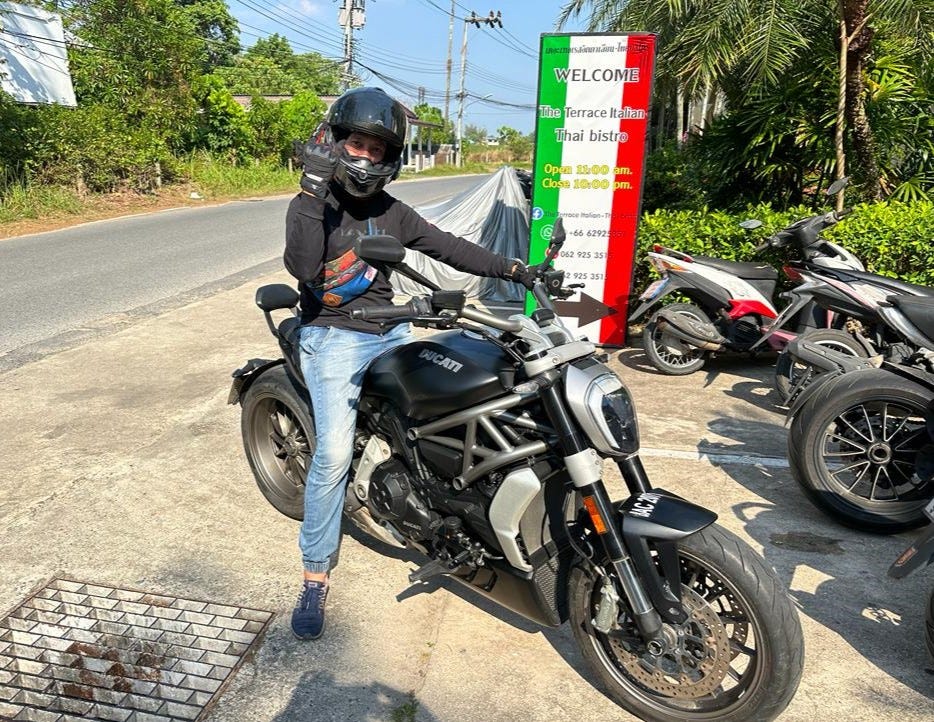 Ducati Diavel
As you approach Phuket, the scenery becomes even more breathtaking. The island is surrounded by clear blue waters, and the beaches are pristine and unspoiled. Phuket gets busy as the end of each day approaches. There are steep climbs and switchbacks as you approach Patong. Negotiate all that and you are in for a treat.
3 Days of Bliss
Phuket and Patong get dismissed as busy, commercialized tourist attractions. Not a place to spend a quiet few days. But they redeem themselves with vibrancy, color and action. Everything you need is within accessible, obtainable distance. Although some things are better left at a distance.
I decided to spend my time reading, writing, running and walking the beach, meeting with the others in between my blissful routine and their escapades. Many a Margarita was drunk between long lazy lunches, meandering walks and joyous, fun filled dinners. Long massages have such life restoring qualities that turn into restful sleep with not a care in the world.
See Also
Ducati Scramblers are the quintessential description of a motorcycle. Designed to be the friend you could count on, they are great all-rounders. Someone said, if a bike were to be purpose built for Thailand, it would be the Scrambler. Comfortable riding posture, good fuel capacity, easy to ride. Do you really need wind protection when you have so much fresh air??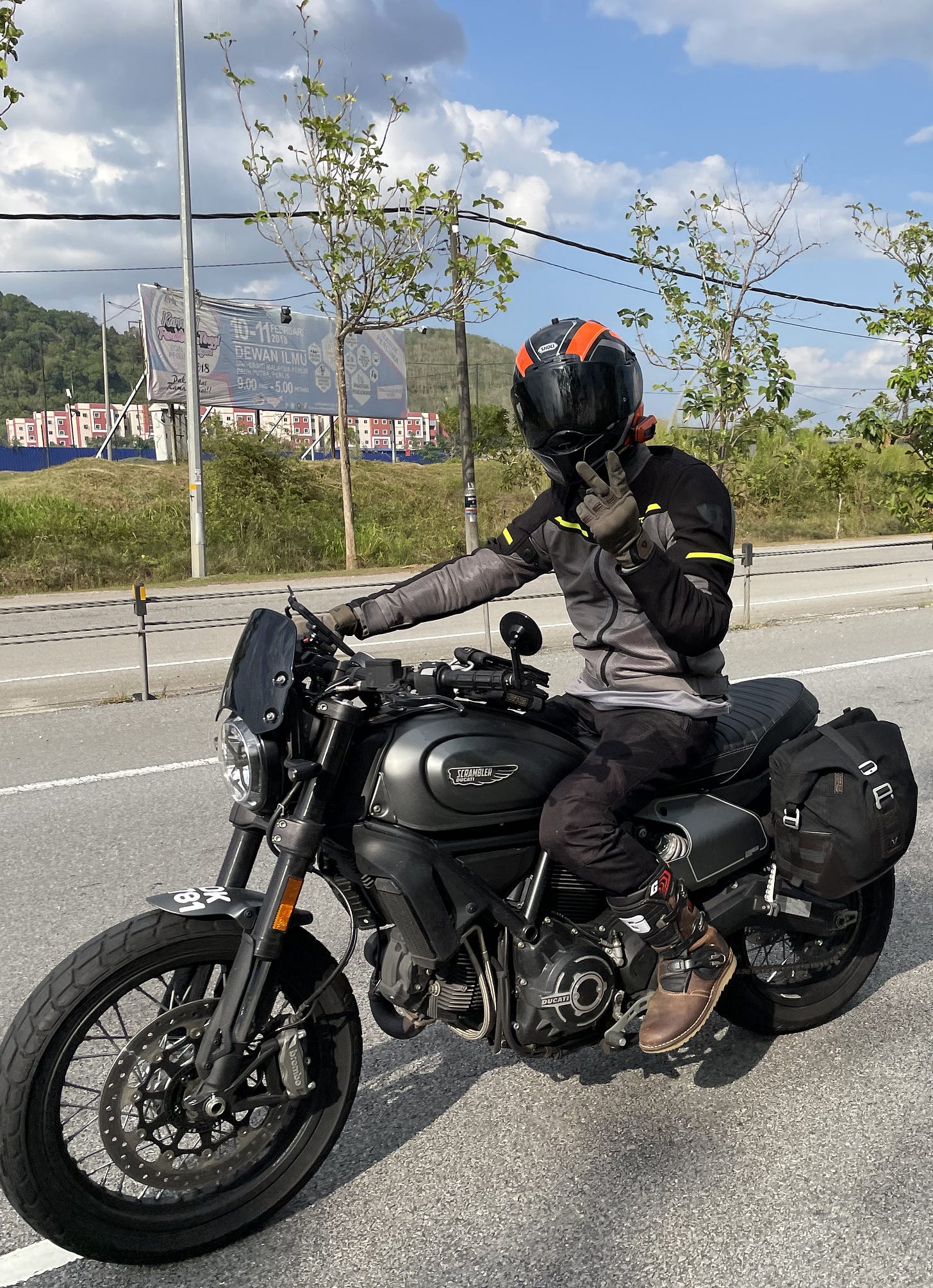 Ducati Scrambler Nightshift
The Road Home
It doesn't matter how you got there but it is always sad leaving Phuket. However, there was still a lot to look forward to on the ride home. The segment to Hat Yai was uneventful. Passing through Krabi, friendships which were now stronger than ever made every step of the way memorable. The heat was bearing down but high spirits made it feel like an evening stroll.
It was dark again when we reached Hat Yai, checking back into the same hotel and for some even the same rooms as the week before. Some went to a Teochew porridge restaurant while others made it back to Lee Gardens for another dose of amazing street food. A visit to the Massage place and off to bed again.
The Desert X is an odd Ducati creation. For now, the only Ducati designed for dirt riding. While Ducati's heritage is obvious in the bike's roadgoing abilities, it is designed as a hybrid, adventure bike. I ran road tyres knowing most of the trip would be on tarmac. And it did everything I asked for, straight-line speed, nimble corners and direction changes, great braking when needed, excellent fuel capacity. And when I wanted more engine braking or any other ride characteristic, the modes were easy to tweak and make the bike do precisely what I wanted.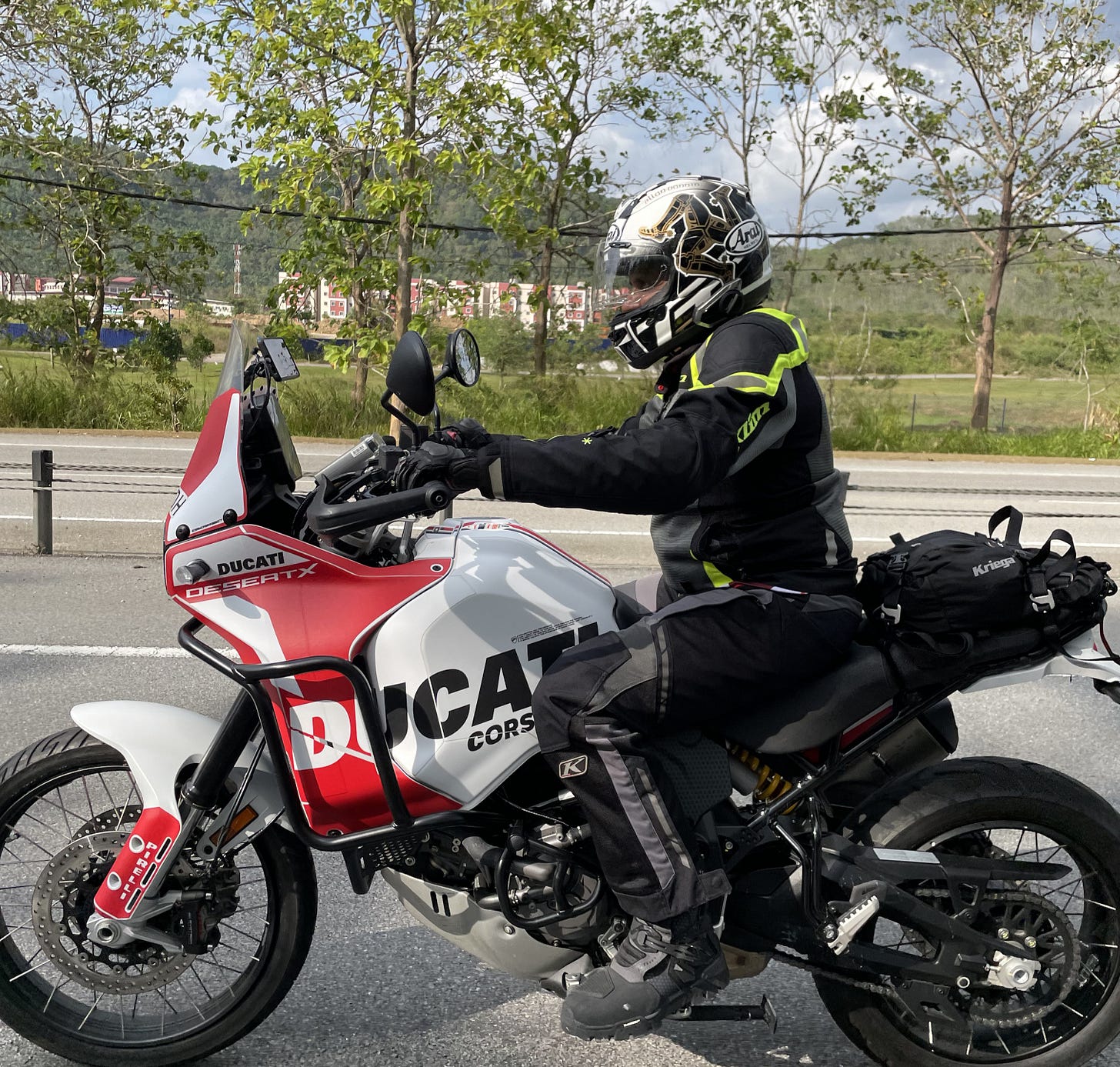 Ducati Desert X
The Finish
Ominous weather was forecasted for the next few days. Trip gods had saved the biggest riding challenge for the final segment from Hat Yai to Singapore. Border crossing at Padang Besar went smoothly. There was some minor confusion over which lanes to use and where to hand in bike papers but they didn't take long to resolve. Breakfast just outside immigration, a quick fuel stop.
The objective was to ride as far as we could and get past KL before rush hour. The plan got us to Seremban in the late afternoon. Early dinner, the food was OK. Rain clouds loomed and every weather app was predicting a soaking wet day for souls brave enough to be on the roads that evening. It was dark when we left Seremban and the weather gods (cousins of trip gods) unleashed driving, drenching rain.
Every layer of clothing just stored water and rain gear was just token, valiant resistance against formidable nature. I turned on my Sena headset for the first time. I always knew I could ride alone and even enjoyed it at times, but this was a time to gather around people. Surely enough, I heard friendly, familiar voices urging me on, urging everyone on. Figuring out where to pass slower vehicles safely and where to hug shoulders and let faster ones through. Slowly but without incident, we reached our final stop. It was 1 AM at good old Gelang Patah. The meek had long left for home, so had cafe racers and cruisers.
Multistradas are the Ducati backbone of long trips. Ducati's adventure flagship and those storied abilities came through on every step of the journey. Great posture, truckloads of power, adaptive cruise control, Ducati engineers had thought of every advantage a rider would need to safely cover vast distances. That our lead and sweep riders rode Multistradas said a lot about the design and purpose of the well loved Multi.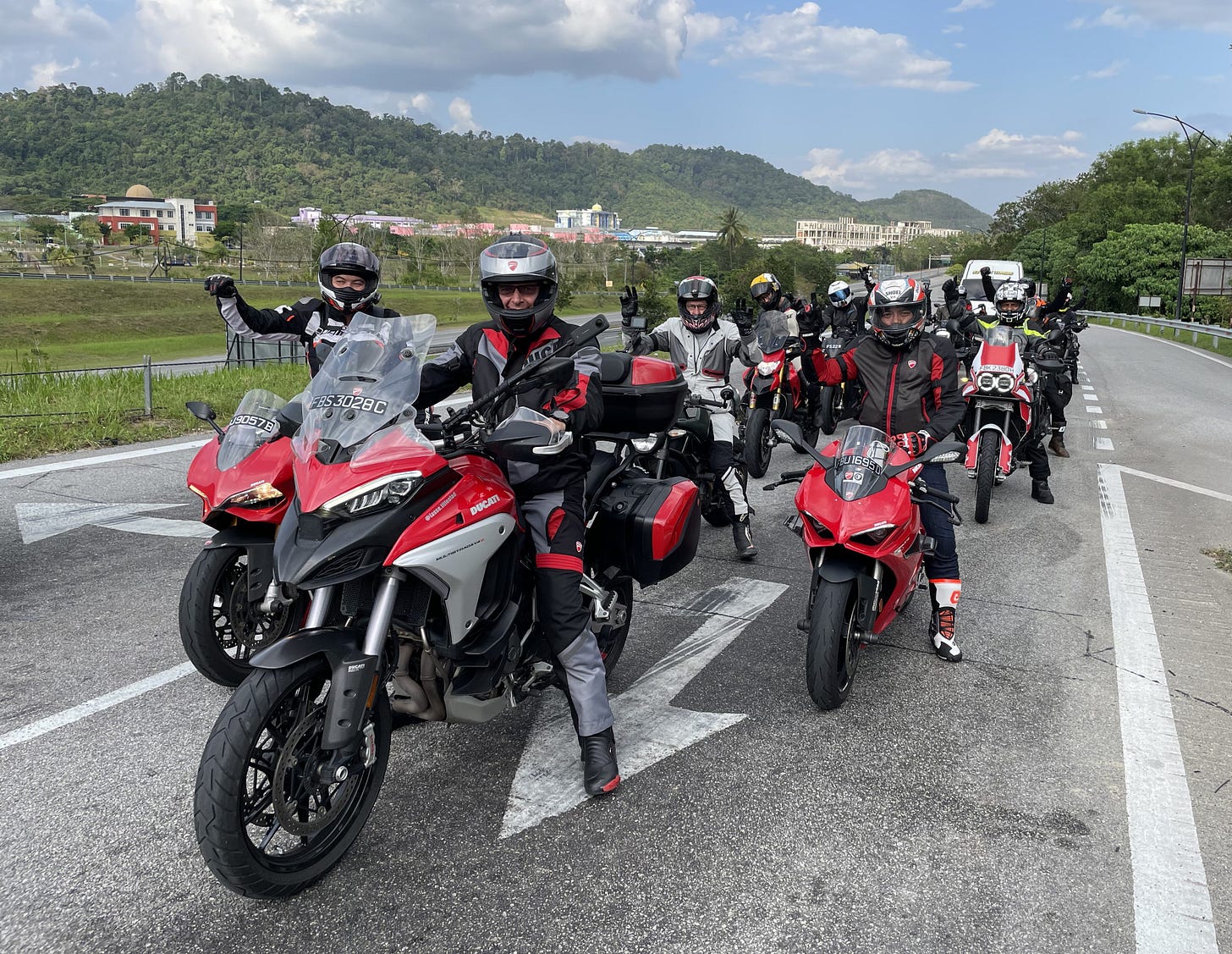 Ducati Multistrada V4S
Lastly, credit to the 2 pillion riders in the group. Not flinching at speeds they dipped into turns as though they were one with the rider and the machine. Everyone admires riding and bikes but very little is said about the art of pillion riding and these 2 ladies demonstrated the art to perfection.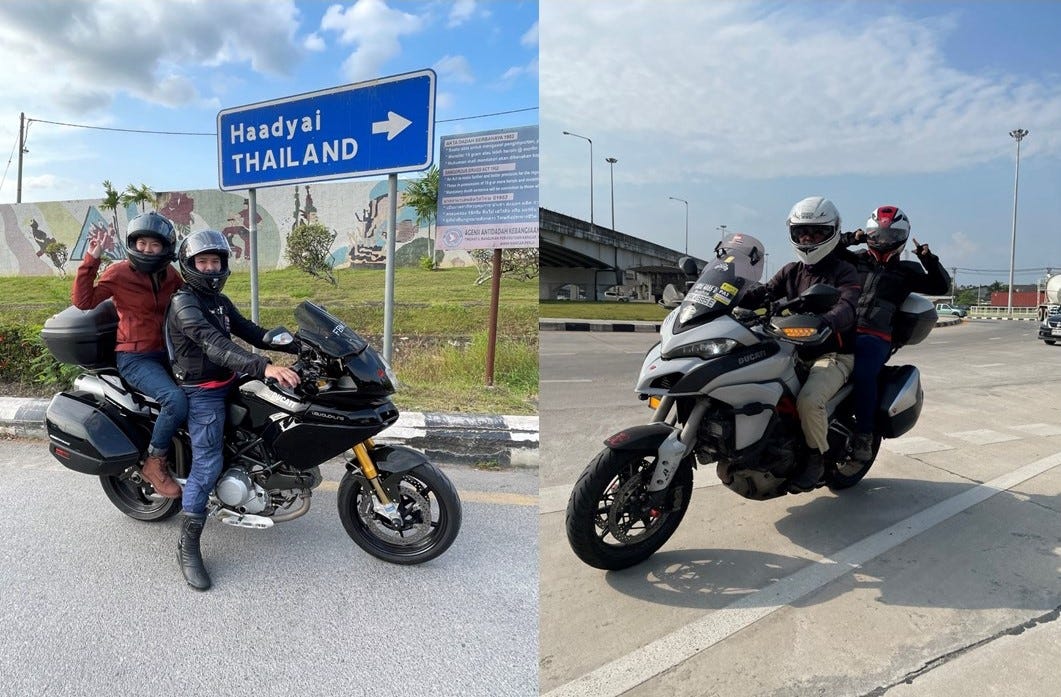 The lovely Pillions on what else but Multistradas
If you're looking for a journey of adventure and breathtaking scenery, riding a motorcycle from Singapore to Phuket is an experience that should be on your bucket list. It is challenging, but the rewards are well worth the effort. Pack your bags, hop on your motorcycle, and set off on this accessible yet unforgettable journey through the heart of Southeast Asia.
For us, it was a memorable trip of 21 different but like minded people getting together to share common passions of riding and traveling. Incidents that happened along the way were minor and easily sorted out. Great testament to the planning and execution abilities of the DOCS group and also descriptive of the flexible attitude of everyone in the group. Safety was always a major consideration and high standards were maintained throughout the journey. Will I ride with DOCS again? Just say when.
Vinod
Vinod describes his strongest skill as the ability to learn. He revels in being a perpetual beginner in everything he does and in understanding things deeply. He believes equal parts in the law of averages and in being in the present. While on the motorcycle, he leaves testing lean angles and top speeds to his immensely more talented ride buddies.