The Concept
Rimba Raid is an eco-race organized by a group of passionate motorcycle tourer/racers. Rimba Raid gives people an opportunity to access some of the most pristine jungle trails in the world. The Taman Negara.
The objective of Rimba Raid is to encourage people to race the bigger bikes they ride every day. These are generally bikes that are bigger, more comfortable, more fuel efficient and easier to maintain. A race like Rimba Raid that offers access to nature and rugged terrain is very attractive to smaller, race specific bikes that are lighter and easier to ride.
The Bikes
Having said that, there is a sense of achievement and accomplishment in riding a multi cylinder heavyweight bike around a typical Rimba Raid course. It takes courage, belief in riding abilities, self-sufficiency and determination to even start the race. Finishing is truly remarkable.
The Location
Rimba Raid is usually held in a tropical forest racing on service roads and trails that provide access to pristine rainforests that have not changed over millions of years. The forests are home to animals like Tigers, Elephants, Bisons, Deer and Wild Boar among others.
Rimba Raid editions in the past have been held in locations like Bentong, Janda Baik, Mat Daling and Kuala Tahan. Each year, the event typically revolves around a small village where racers are based, where last-minute preparation and pre-race administration like bike scrutineering can take place. Residents of the area are invited to be part of the event by providing food, amenities, services and any other assistance to the riders. Although hotel rooms and facilities are available, several riders and support crew choose to camp onsite to take in the full nature experience.
Scrutineering
Rimba Raid runs over 120 kms to 150 kms of trail. A reliable bike, setup for long distance offroad riding is critical. Past editions have seen some riders complete the course well after sunset. During scrutineering, headlights, signal lights, sufficient fuel carried safely, appropriate tyres and overall condition of the bike will be checked thoroughly. There are however some exceptions and differences for smaller bikes, so read the rules carefully.
The Route
A GPX file will be given to racers the night before the race. Racers can upload the GPX file onto their phones or other navigation devices. Although GPS navigation is relatively simple, there have been several reports of racers getting lost and having others follow them. It is also important to note that access to the trail before raceday will be strictly prohibited. Racers who violate this rule will be disqualified.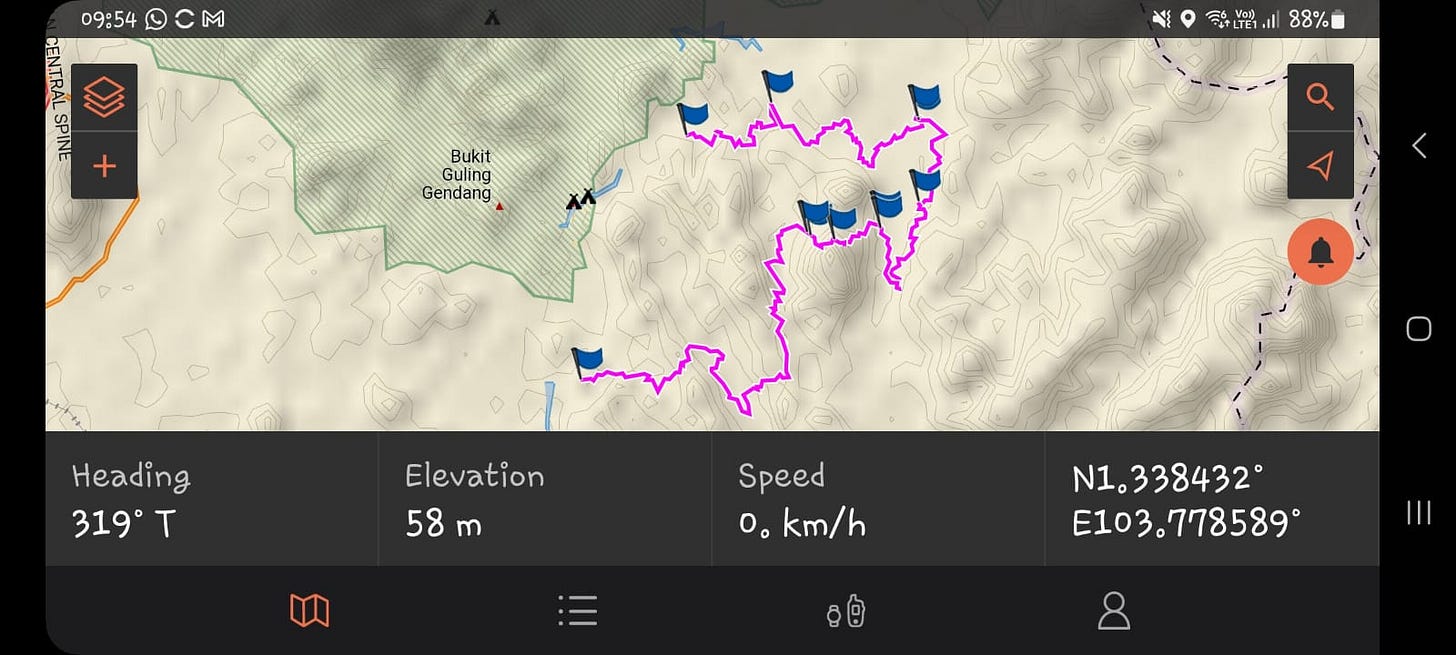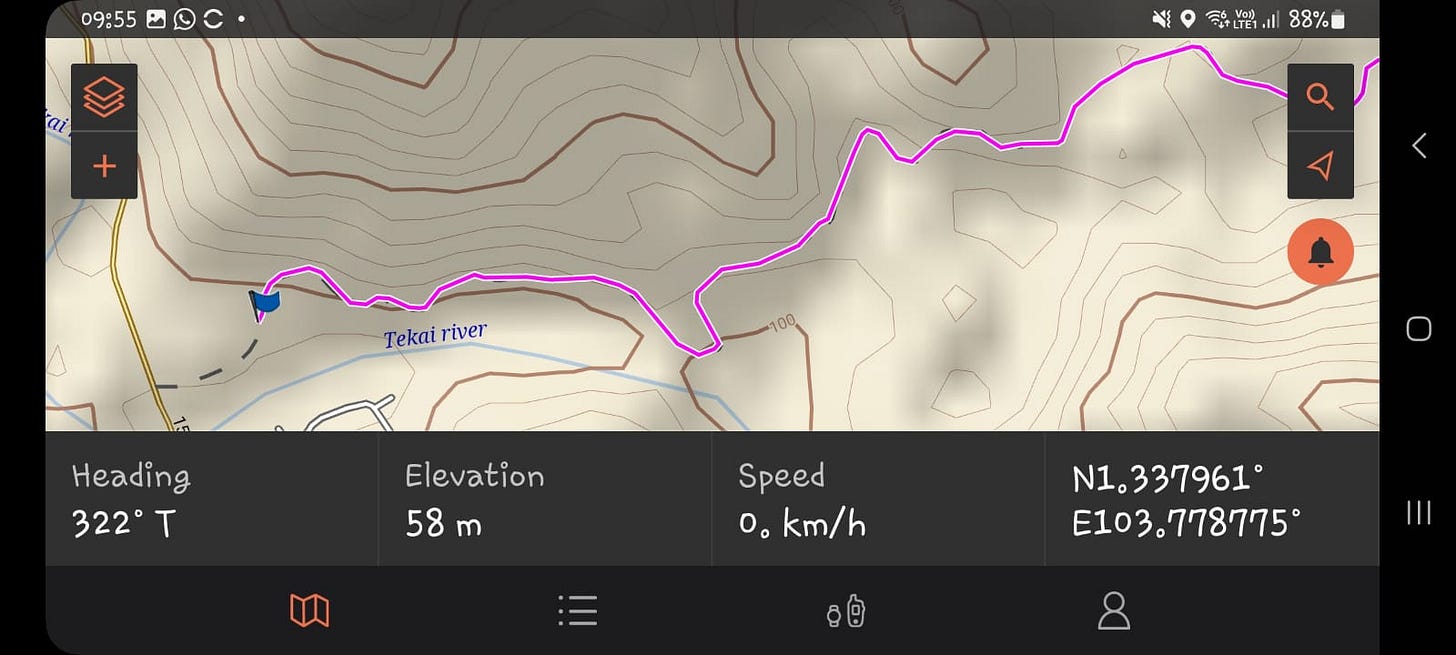 The Prologue
Rimba Raid 2023 will have a prologue that will run on Friday, 1 day before the race. Faster finishers in the prologue will get to start the race earlier according to their prologue times. Riders will be asked to assemble at the event venue and taken by convoy to the starting point.
The Start
The ride up to the start area will be on tarmac. The race will wind through nearly 150 kms of remote service roads, plantations and jungle trails with rarely any tarmac between the start and end points. Most of the race terrain will be easily rideable if you are a regular offroad rider. However, it is important to race the prologue and get an earlier start time.
Racers who are quick through flatter, easier terrain in the initial stages of the race gain a huge advantage when they get to the difficult parts of the course. Get there quickly and get more space, take more attempts to get across when you still have the energy. Those who are slow will find it very difficult to pass through the tougher sections. Time passes quickly in races and a majority of the slow starters will not finish the race. DNF is not a great thing to see against your name in the results but you are guaranteed to learn more about yourself, your bike and racing in general even if you just start.
The Repentance
Race planners will strategically pick specific points in the course that pose acute riding challenges. These are usually in the form of steep, slippery climbs, river crossings and sand banks. Names like Bukit Tobat and Gunung Dulang are etched into riders' memories for eternity. The general racing rule of, 'if the place has a name, it is difficult' holds true here. It is hard for photographs to capture the intensity of terrain but see below and think again.
The Chaos
To add to the challenge of riding across difficult terrain, racers have to deal with the congestion created by fallen bikes on narrow racing lines. Bigger bikes need runway to build momentum and tackle steep, sharp climbs. These runway sections could often be blocked and occupied by bikes which make it a challenge to pass through. Over the years, many strong riders who either drew late starts or rode slow in the initial stages have been stopped cold in their tracks when they ran out of terrain and trail to negotiate. So, be warned and be quick at the start.
Although race marshalls are usually on hand to help at difficult sections, racers are required to be self-sufficient. A racer can be disqualified if anyone else (including marshalls) are in control of the bike at any given point in the race. Marshalls and other racers will be allowed to help as long as the racer is in control of the bike.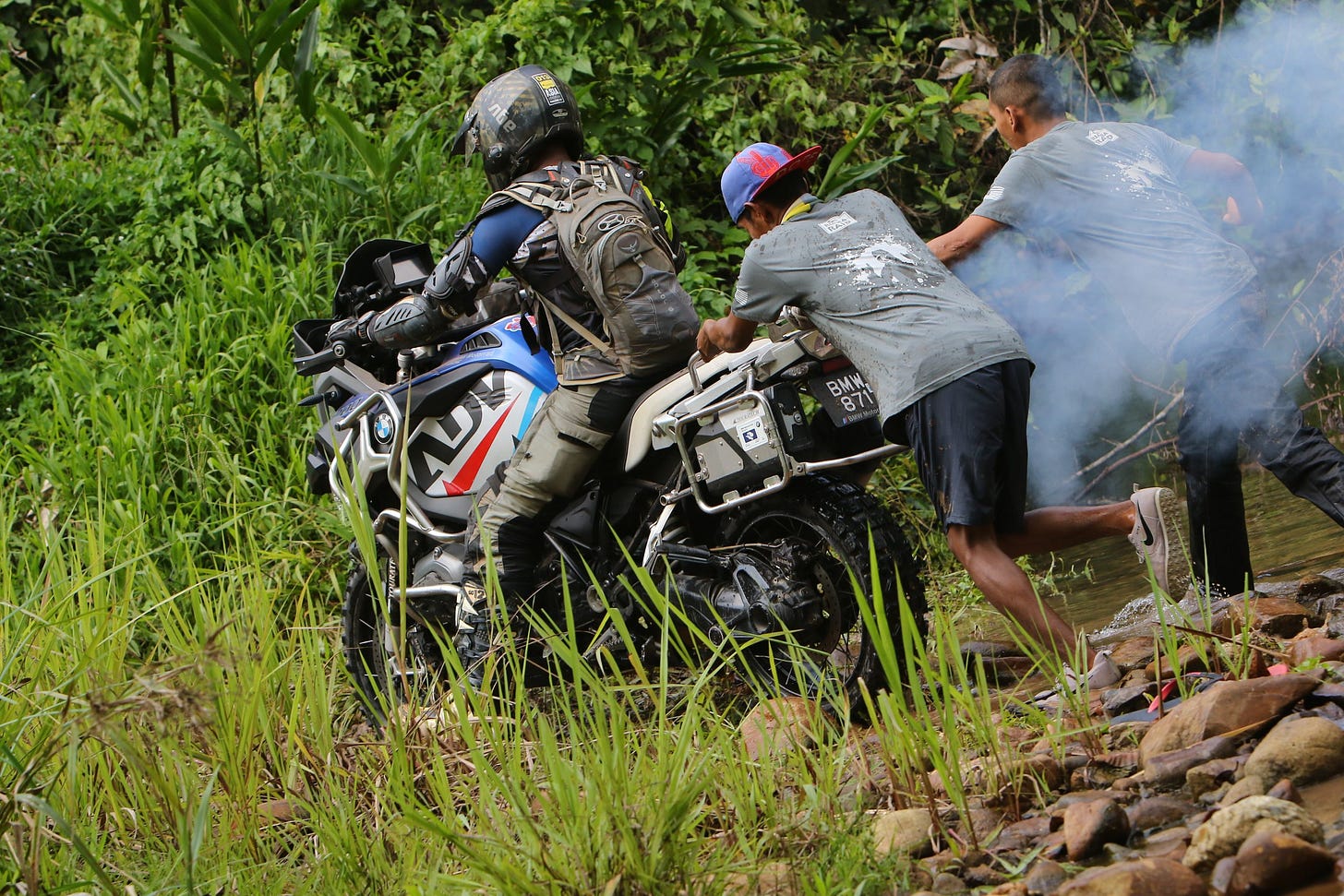 The Rivers
More pristine jungle trails welcome riders who manage to get across the congestion and mid-course chaos. Some tight, some wide and sweeping, across river crossings and to sand banks. Riders' offroad technique will be thoroughly examined and pushed to the limit.
Riders can only become good at river crossings if they practice a lot. "Reading" the water, predicting any big rocks that could catch the wheels, slowing down to watch others take lines all help. Being lucky helps too.
The Sand Bank
Riding in sand is another great offroad skill to have in your back pocket. Speed, balance, practice are the name of the game. This year the Sand Bank will be located around the midpoint of the race and more importantly racers and teams are allowed to place crew in the sand bank area for additional fuel and food during the race.
Once past the sand bank, riders are expected to ride back into pristine jungles and beautiful scenery. Navigation will be critical in the later stages of the race when racers are tired and sunlight begins to fade.
The Finish
There will be cutoff points for each section of the course. Riders who do not make it to the cutoff points will be asked to leave the course through exit trails. Keep in mind these exit trails can be long and tricky in fading light. So, practice as you expect to race. Ride long distances, always adopt good riding technique, test your bike's fuel consumption patterns, prepare your bike well shake it down. Rest well before the race and have the best experience of your racing life. Finish if you can.
For those who decide to ride a big bike, there are some great build up events (for example: http://ridektm.asia/tribe_events/rimbaraidqualifiers/). These events are focused on multi cylinder, adventure-oriented bikes. Take advantage of them if you can. Happy Racing.
Vinod
Vinod describes his strongest skill as the ability to learn. He revels in being a perpetual beginner in everything he does and in understanding things deeply. He believes equal parts in the law of averages and in being in the present. While on the motorcycle, he leaves testing lean angles and top speeds to his immensely more talented ride buddies.